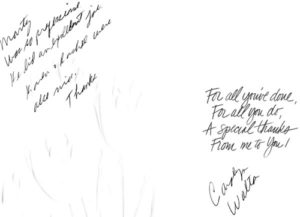 Marty was so professional. He did an excellent job. For all you've done, for all you do, a special thanks from me to you!
Carolyn Walton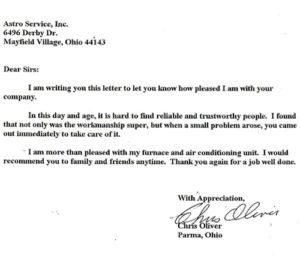 Dear Sirs:
I am writing this letter to let you know how pleased I am with your company.
In this day and age, it is hard to find reliable and trustworthy people. I found that not only was the workmanship super, but when a small problem arose, you came out immediately to take care of it.
I am more than pleased with my furnace and air conditioning unit. I would recommend you to family and friends anytime. Thank you again for a job well done.
With Appreciation,
Chris Oliver
Parma, Ohio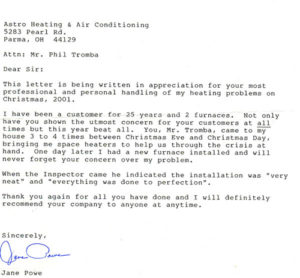 Dear Sir:
This letter is being written in appreciation for your most professional and personal handling of my heating problems on Christmas, 2001.
I have been a customer for 25 years and 2 furnaces. Not only have you shown the utmost concern for your customers at all times but this year beat all. You, Mr. Tromba, came to my house 3 or 4 times between Christmas Eve and Christmas Day, bringing me space heaters to help us through the crisis at hand. One day later I had new furnace installed and will never forget your concerns over my problem.
When the Inspector came he indicated the installation was "very neat" and "everything was done to perfection". Thank you again for all you have done and I will definitely recommend your company to anyone at anytime.
Sincerely,
Jane Powe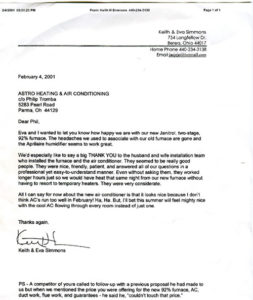 Eva and I wanted to let you know how happy we are with our new Janitrol, two-stage, 92% furnace. The headaches we used to associate with our old furnace are gone and the Aprilaire humidifier seems to work great.
We'd especially like to say a big THANK YOU to the husband and the wife installation team who installed the furnace and air conditioner. They seemed to be really good people. They were nice, friendly, patient, and answered all of our questions in a professional yet easy-to-understand manner. Even without asking them, they worked longer hours just so we would have heat the same night from our new furnace without having to resort to temporary heater. They were very considerate.
All I can say for now about the new air conditioner is that is looks nice because I don't think AC's running too well in Feburary! Ha. But, I'll bet this summer will feel mighty nice with the cool AC flowing through every room instead of just one.
Thanks again,
Keith & Eva Simmons
PS – A competitor of yours called to follow-up with a previous proposal he had made to us, but when we mentioned the price you were offering for the 92% furnace, AC, ductwork, flue work, and guarantees – he said he " couldn't touch that price."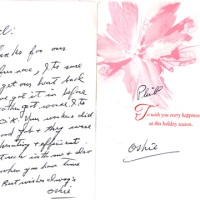 Phil, Thanks for are new furnace, it's sure good to get my heat back on, we got it in before this weather got worse. It's working O.K. You're workers did a very good job and they were very knowledgeable and efficient.
Keep in touch with me and also, stop in when you get time.
Best wishes always…
Oshie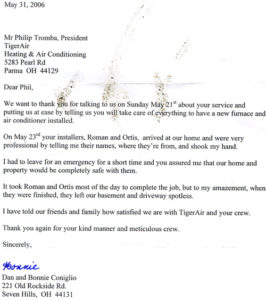 We want to thank you for talking to us on Sunday May 21st about your service and putting us at ease by telling us you will take care of everything to have a new furnace and air conditioner installed.
On May 23rd your installers, Roman and Ortis, arrived at our home and were very professional by telling me their names, where they're from and shook my hand.
I had to leave for an emergency for a short time and you assured me that our home and property would be completely safe with them.
It took Roman and Ortis most of the day to complete the job, but to my amazement, when they were finished they left our basement and driveway spotless.
I have told our friends and family how satisfied we are with TigerAir and your crew.
Thank you again for your kind manner and meticulous crew.
Sincerely,
Dan and Bonnie Conigilo
Recently Astro Heating and Air Conditioning Inc installed a Bryant furnace and air conditioning in our home. We were inspired with the entire hands-free project, from a fair price and prompt experts installation to very clean dismantling and disposal of the old equipment.
We highly recommend the company.
Leo Boguski
Solon Ohio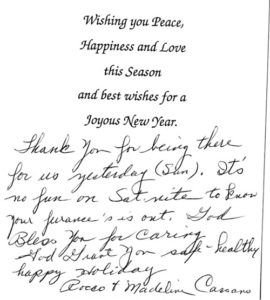 Wishing you peace, happiness and love this season and best wishes for a joyous New Year.
Thank you for being there for us yesterday. It's no fun on Sat night to know your furnace is out. God Bless you for caring. God Grant you safe – healthy happy holiday
Rosco & Madeline Carsano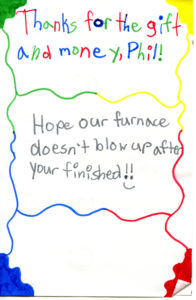 Thanks for the gift and money, Phil!
Hope our furnace doesn't blow up after your finished!!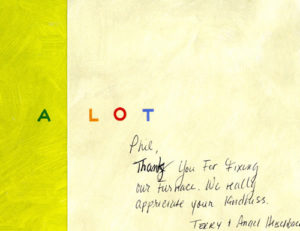 Phil, Thank You for fixing our furnace. We really appreciate your kindness
Terry and Angel Hirshbach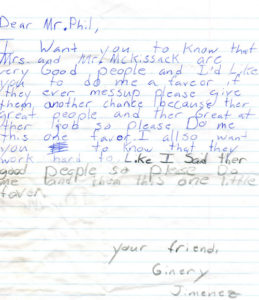 Dear Mr.Phil,
I want you to know that Mrs. And Mr. Mckissack are very good people and I'd like you to do me a favor if they ever mess up please give them another chance because they are great people and they are great at their job so please do me this one favor. I also want you to know that they work hard too. Like I said they are good people so please do me and them this one little favor.
Your friend,
Ginery Jimence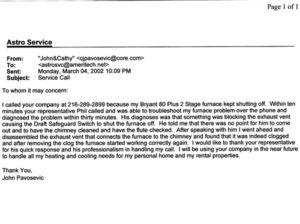 I called your company at because my Bryant 80 Plus 2 Stage furnace kept shutting off. Within ten minutes your representative Phil called and was able to troubleshoot my problem over the phone and diagnosed the problem within thirty minutes. His diagnosis was that something was blocking the exhaust vent causing the Draft Safeguard Switch to shut the furnace off. He told me that there was no point for him to come out and to have the chimney cleaned and have the flute checked. After speaking with him I went ahead and disassembled the exhaust vent that connected the furnace to the chimney and found that it was indeed clogged and after removing the clog the furnace started working correctly again. I would like to thank your representative for his quick response and his professionalism in handling my call I will be using your company in the near future to handle all my heating and cooling needs for my personal home and rental properties.
Thank You,
John Pavosevic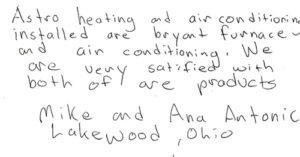 Astro heating and air conditioning installed our Bryant furnace and air conditioning. We are very satisfied with both of our products.
Mike and Ana Antonic
Lakewood, Ohio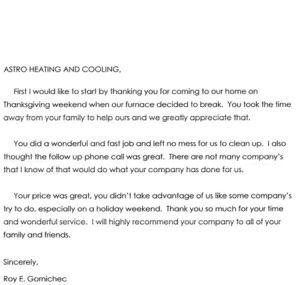 First I would like to start off by thanking you for coming to our house on Thanksgiving weekend when our furnace decided to break. You took the time away from your family to help ours and we greatly appreciate it.
You did a wonderful and fast job and left no mess for us to clean up. I also thought the follow up phone call was great. There are not many company's that I know of that would do what your company had done for us.
Your price was great, you didn't take advantage of us like some company's try to do, especially on a holiday weekend. Thank you so much for your time and wonderful service. I will highly recommend your company to all of our family and friends.
Sincerely,
Roy E. Gornichec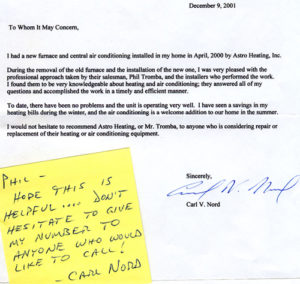 To whom it may concern,
I had a furnace and central air conditioning installed in my home in April 2000 by Tiger Air.
During the removal of the old furnace and the installation of the new one, I was very pleased with the professional approach by their salesman, Phil Tromba, and the installers who performed the work. I found them to be very knowledgeable about heating and air conditioning, they answered all my questions and accomplished the work in a timely and efficient manner.
To date, there have been no problems and the unit is operating very well. I have seen a savings in my heating bills during the winter, and the air conditioning is a welcome addition to our home in the summer.
I would not hesitate to recommend Tiger Air, or Mr. Tromba, to anyone you is considering repair or replacement of their heating and air conditioning equipment.
Sincerely,
Carl V. Nord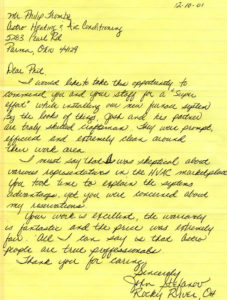 Dear Phil,
I would like to take this opportunity to commend you and your staff for a "super effort" while installing our new furnace system. By the look of things, Josh and his partner are truly skilled craftsman. They were prompt, efficient and extremely clean around their work area.
I must say that I was skeptical about various representatives in the HVAC marketplace. You took time to explain the systems advantages, yet you were concerned about my reservations.
Your work is excellent the warrant is fantastic and the price was extremely fair. All I can say is that Astro people are true professionals.
Thank you for caring
Sincerely,
John Stephanov
Rocky River, OH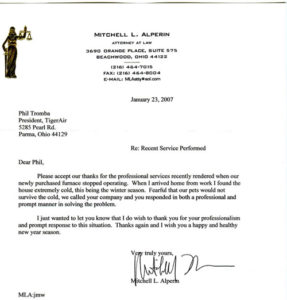 Dear Phil,
Please accept our thanks for the professional services recently rendered when our newly purchased furnace stopped operating. When I arrived home from work I found the house extremely cold, this being the winter season. Fearful that our pets would not survive the cold, we called your company and you responded in both a professional and prompt manner in solving the problem.
I just wanted to let you know I do wish to thank you for your professionalism and prompt response to this situation. Thanks again and I wish you a happy healthy new year season.
Very truly yours,
Mitchell L. Alperm
Phil:
Just a line to let you know how grateful we were, that you came to our rescue with all the help you gave us on our furnace problem. Thanks so much. We think of you when… it gets cold outside.
Erma Emery
Contact Tiger Air specialists today!